New System Guide
Hello, and welcome to the Hogwarts is Home System! You're been sorted into your new house, and now it is time to register your account in the System!
The System is an automated system of recording activities, keeping track of bonus items, and tallying points. It keeps things organized for the mods of the various subcommunities and allows for quick and accurate tabulation of points! All in all, it is a useful tool to enrich your experience at Hogwarts is Home.
Table of Contents:
Registering/Logging In
System Top Bar Options
System Side Bar Options
-
Your Details
-
Register a Vault
-
Your Vault (Owned Items)
-
Diagon Alley
-
Auctions
-
Your Settings
-
Your Activity History
-
Activity Viewer
-
Search Activities
Troubleshooting
Registering/Logging In
To start off with, you need to register your account. Start off by loading
http://hih.leaky-sponge.com/
, which should look something like this: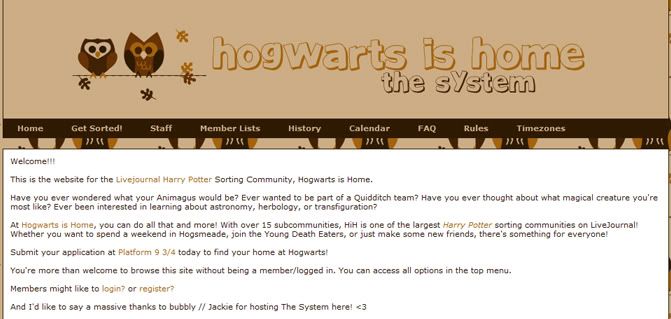 To activate, click on the 'register' link, which will bring you to the following page:
Select your username from the drop-down menu. If you don't see your username in the drop down menu, wait a day or two after your sorting to give the Voting Manager the opportunity to put it in the system. If it does not appear within a week or so, contact the prefect of your new house about the issue to get their help.
Fill out the appropriate information for name (nicknames are fine too! Just pick whatever you want to use around HiH), email, and select a password. Type out the security text, double check your information, and then click 'Register'!
Your registration is now complete! Time to log into your account for the first time. Click on log-in, and then enter your username and password into the boxes, and click 'Login!' If you are on your personal computer, you can select to stay logged in for up to two weeks, a very handy option!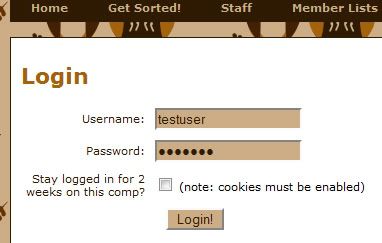 You will automatically be redirected to the System home page!
The notes on the main page are system updates from
theaeblackthorn
// Sas, our Head Mod and resident System expert, so feel free to peruse those or check them out at a later date when you have a better grasp of the System.
System Top Bar Options
The first set of options you'll notice in the System are the top bar options: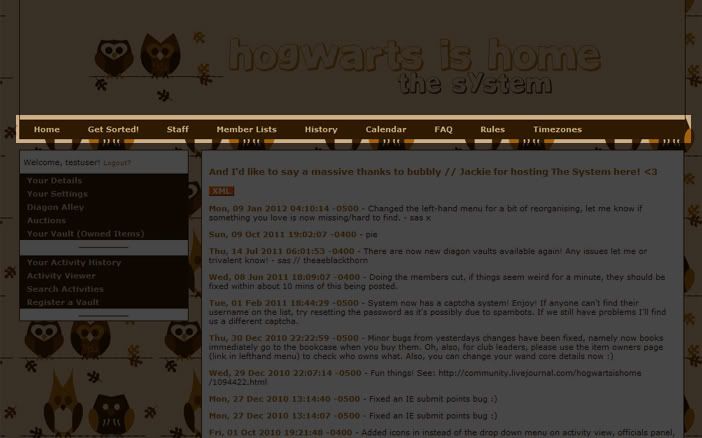 These options are fairly self explanatory, so this is just a brief overview. Feel free to look in more depth at them in your free time!
Home
: The home page that you first see when you log in!
Get Sorted
: This will link you to our sorting community, Platform 9 3/4, on Livejournal. You've already been sorted if you've registered, so you don't need to worry about this!
Staff
: This is a list of all members who currently hold Officials Positions or who are Club/Ward leaders here at Hogwarts is Home. They are the ones maintaining the communities, running activities, and submitting points. If you stay at HiH long enough and become active, this could someday be you!
Member List
: This is a list of all current members of Hogwarts is Home. Once clicking upon this link, you have the option of looking by house or looking at past members, or looking at special categories like Healers or Vault Numbers.
History:
A brief history of Hogwarts is Home, including past house cup winners and statistics about applications to Hogwarts is Home.
Calendar
: A calendar of important events at HiH, including points deadlines.
FAQ
: Frequently Asked Questions at HiH, all answered in one convenient place! A great list to check out to help you better figure out the ropes here!
Rules
: The Rules for Hogwarts is Home. Please take a look at these before participating to help keep HiH a fun environment for everyone!
Timezones
: Because Hogwarts is Home is an international community, we use UTC as our standard time throughout the community. This option will help you with converting your time zone into UTC so you never miss the deadline of an activity!
System Side Bar Options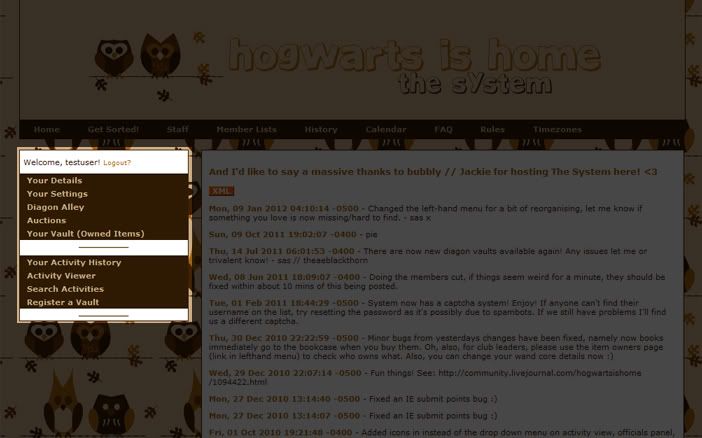 Next up are the side bar options, which are the heart of what the System is capable of doing! They can be a bit overwhelming at first, but will be very useful things to have handy as you expand at HiH.
Your Details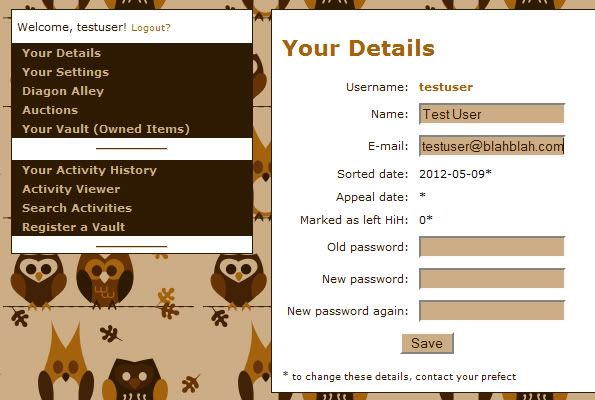 This menu contains the basic information about your account: your username, your name, your password, your email address, and your sort dates. Having just joined, this should all be correct, but this is where you can come to change them in the future. If any of the information you cannot edit is incorrect, contact your prefect to have them correct it.
Register a Vault
:
This is a temporary option that will let you get your Vault, which will accumulate knuts for you to purchase items in the System at Diagon Alley (see further down).

Select the number vault that you want, and then click 'Register'. You will not be able to change your vault number, so pick wisely!
Your Vault (Owned Items)
:
This is where you will find a record of how many knuts you have, as well as all the items you own!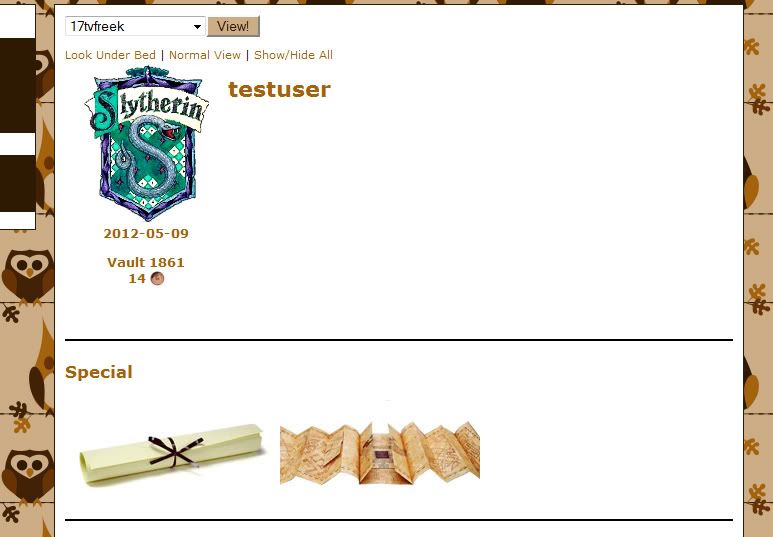 The drop down menu at the top allows you to look at the vaults of any member in HiH. But first, let's take a look at your own vault.
At the top of your vault is your username, house crest, and your sorting date. Below that is your vault number (in this case, #1861) and the number of knuts you have.
Below are the House Welcome Scroll and the Marauder's Map, which you will receive automatically upon registration.
By clicking on the map, information will appear near the top of your vault detailing all of the specific information about your item. If you want to hide an item, use the drop down menu to select 'Under the Bed (Hidden)', and then click 'Move'. To see the item again, selected the 'Under the Bed' view at the very top of your Vault.
The map has a specific message for you, if you select the 'Read' option under 'description', so feel free to read that!
The Marauder's Map, your other guaranteed item, links you to a map of the HiH hierarchy, which details which main mods are in charge of what communities. If you have issues that can't be resolved by the moderator in charge of a specific community, these are the mods you should address your issue to. This chart is also available on the hogwartsishome community profile page.
Below these items are your bookcase. You have the option to turn this display off in 'Your Settings' (see further down), but this is your default. Once you have the knuts to purchase books from Diagon, you will be able to move the books (by clicking on them and using the option to move them to the bookcase in the drop down menu) into the bookcase.
The 'Click Me!' drop down menu, once you have books, will allow you to go directly to the information about any specific book.
Below this are your other owned items. You are automatically gifted three items when you register, which will appear here.
They will be divided by categories automatically, and more categories will become available as you begin to purchase items at Diagon. Like the Welcome Scroll and the Marauder Map above, you can click on your items to see details about them, which will automatically scroll you to the top of your vault to view their details. As you spend more time at HiH, you may acquire items that have special options, so click on them to access these options as well!
Your vault will also let you know which clubs you have all of the bonus items for. You will receive an icon for each club you have all the items for, which you can check the name of if you hover over it. Here is an example of how it will appear:
Diagon Alley
:
So you want to fill up your vault and spend your knuts. Diagon Alley is the place to go for this!
Scroll down to view the multiple shops you can visit. Each one specialized in a different type of item.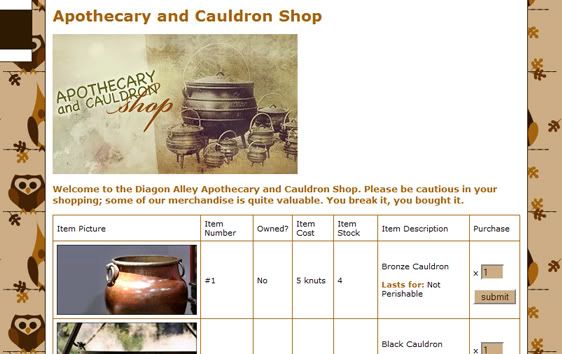 To purchase an item, simply press 'Submit'. You can see how many of the item are still available (if this number is 0, you'll have to wait until the next month when Diagon is restocked), and if you already own the item, along with how much it costs. If there are none available or you don't have enough knuts, you won't be able to purchase the item. Once you click submit, head to your vault to check out your new item!
Certain items at Diagon can be gifted to other users as well as purchased for yourself.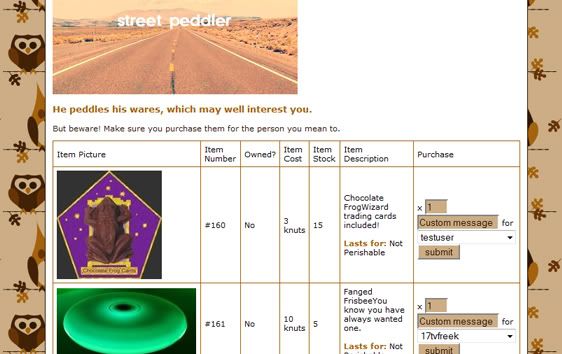 Before purchasing these items with the 'Submit' button, select the username of the individual you want to receive the item in the drop down menu. If you want to buy it for yourself, be sure to select your own username!
Auctions
:
Now that you have a few items, if you find you want to get rid of them, you have the option to auction them off! This process is explained in more detail in the
Auction Guide
. The main page of the auctions allows you to look at the auctions occurring in all of the System as well as your own.

Your Settings
:
In Your Settings, you can change some of the settings of your account. The drop down menu allows you to pick which type of activities you want to view by default (Awaiting Approval, Approved, etc). Below that are what dates of activities you choose to look at. You can have your visible activities range from a month to several. You can also choose whether or not you want the bookcase format in your Owned Items. Finally, you can choose various skins for your account in case you don't like the default.
Your Activity History
:
Your Activity History is a place to check out a record of your accomplishments at HiH!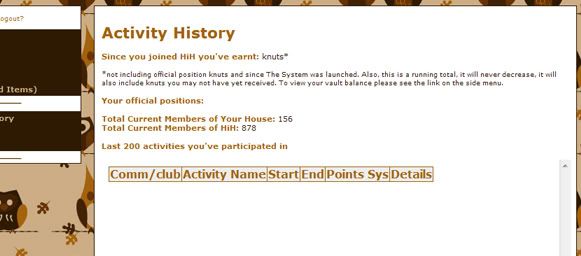 As you begin to earn knuts at HiH, they will be recorded here so you can see your progress over time. Current Officials positions will also be listed here, along with the last 200 activities you've participated in and some stats on your house.
Activity Viewer
:
The activity viewer is a way for HiH to see everything that is going on in the community, as well as activities that will be coming up soon!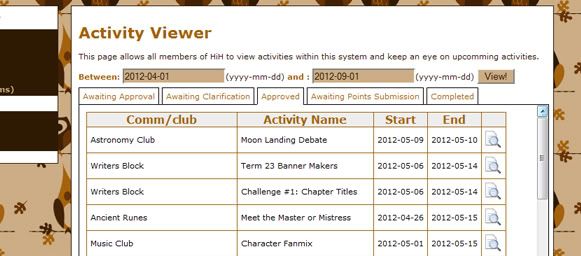 As a viewer, you have five viewing options (defined by the dates you put in Your Settings, though you can change the dates for a one time thing if you so desire). 'Awaiting Approval' are activities that officials have submitted, but that the mods haven't given the OK to yet. 'Awaiting Clarification' are activities that need to be revised a bit. 'Approved' means the activities are okay to run and will be showing up around the community during the designated dates. 'Awaiting Points Submission' means that the activities are completed but the official in charge hasn't submitted points yet. 'Completed' means the activity is completely done, and points and knuts have been submitted.
To view the details of an activity, click the paper and magnifying glass icon on the far right.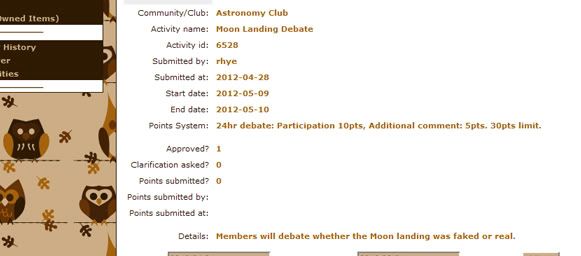 To view points for Completed activities, go to the Completed activities tab and click on the pie chart icon. Points will be displayed by house, with the number of knuts earned by individual members listed after their names.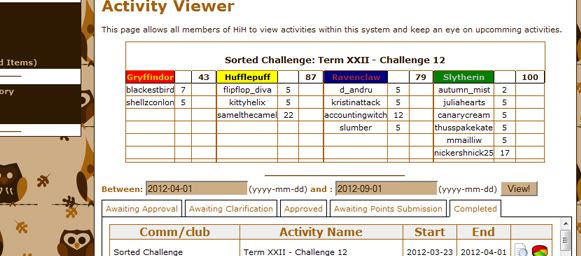 Search Activities
:
If you wish to look for a certain activity using a keyword, this is the tool to use.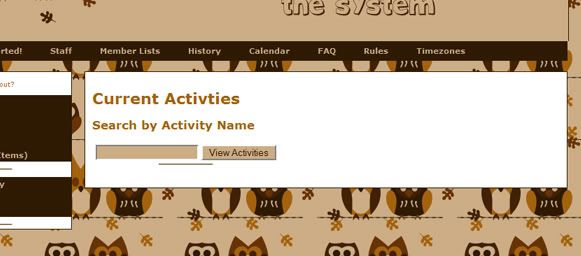 Let's say you were looking for activities with the keyword 'Icon'. Type 'icon' into the search box, and click 'Search Activities'. You will be given a list of all activities with that keyword from the beginning of the system until now. Very handy!
Troubleshooting
Have you still been having some problems with the system? If so, these are the people you should contact first to help you deal with any problems:
- If you have a forgotten password, some of your information you can't change is wrong, or you renamed your LJ account and want your System account to change accordingly, contact your house Prefects.
- If you are having issues with Diagon, your vault, or with knuts, contact the Diagon Mod.
- If you are having other problems with the system that seem to be coding mistakes, contact the Head Mod / System Manager, Sas / theaeblackthorn for help. The easiest way to do this is via email at hih.officials [at] gmail.com.
We hope that this guide has been helpful, and we hope you have a fantastic time here at Hogwarts is Home! Welcome!